• junp to New Jersey Report below •
~* MegaCon Report - February 16-18, 2007 *~
Seaview/SubPen Friends
• Click on Thumbnails to see full sized pictures in new window
•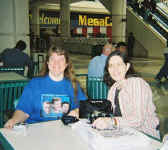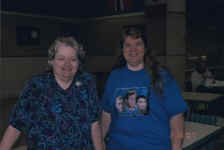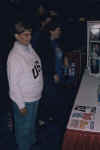 Left to Right: Carol (catfish) & Sue (bookscape), Sue & I (pic by Carol), Carol & I, Lin and I (right two pics by Sue)
Also got to meet Casey and Robert and hung out with Lin Friday night and Saturday!!

Candid Pix

Left: man in center is John Kachmar, Diane's husband. He made all of David's display signs
and banners and is in charge of sales. Right: Such a nice smile!! Diane Kachmar is behind the table.
David and Seaview/SubPen Friends
Carol's Presentations



Certificate to David from Seaview Yahoo List.




Certificate for Diane, signed by Carol and David


Certificate for Sue, signed by Carol and David

Left: Certificate from Carol and David - pic by Sue
Right: the actual certificate! Many thanks, Carol!!!
My David Hedison Autographed Pictures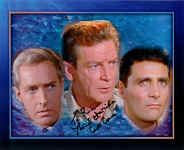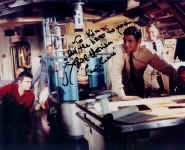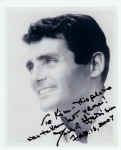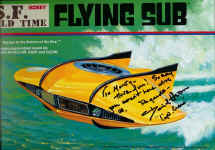 David said that the second picture is from a rehearsal where someone off screen said something funny.
Flying Sub model on far right was a gift for my engineer hubby!
My Other Autographed Pictures!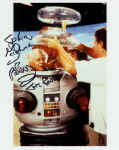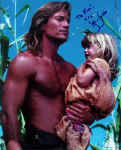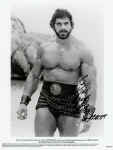 Various Costumed Characters

Skuld, Belldandy and Urd from "Ah! My Goddess!", an Ent from Lord of the Rings, and Kirby from Nintendo Games,
Luigi and Princess Daisy from Nintendo Games, R2D2 from a galaxy far, far away, the Robot (and Bob May, the person
who was inside him) from "Lost in Space" and two Stormtroopers, also from a galaxy far, far away.

• MY CON REPORT •
• Diane's Report & Pix • Carol's Report & Pix • Sue's Report & Pix •

THURSDAY

It had been a very hectic week so I really wasn't ready to head out until pretty late. First I had to take son to school, go to work, pick up son from school and take him to swim practice. I'd originally had a church meeting scheduled that evening, but, luckily it was cancelled. So I was rushing around trying to finish packing, getting my DVD player and cables together and ironing my last two t-shirts. I also printed out the Command Trio pic and a slightly larger version of David's "Teahouse" pic for him to sign. I had to wait until hubby got home from working late before I could leave for Orlando so I didn't get started until close to ten. Drive was pretty smooth and uneventful but I didn't get in to Orlando around midnight. Found the hotel and saw Sue's bright orange Tennessee pillow in the window so I knew I was in the right spot. <g> Was so much fun to meet Sue!! We talked Voyage and stories some before finally sleeping.

FRIDAY

Sue and I got our passes (mine was a three-day bright fuchsia plastic armband) then ran into Carol at a table in the Food Court area. We all hugged and took pics and chatted as we waited for the doors to open. We immediately went over to the celebrity autograph area to see David. Diane and John were still setting up for David. We didn't want to overwhelm him right away, so Sue and I went to see Bob May, the actor inside the Robot from Lost In Space. A very sweet funny man. Got autograph of him with Robot. Finally looked like David was ready to receive guests so we went over. Met Diane and her husband, John and then met David. Sue presented him with the lovely picture she made and the όber sweet Carol did some wonderful surprise presentations!! I got two of my pictures signed. The first one was the Command Trio pic I'd made printed out on photo paper. He said it was beautiful! :::happy sigh::: Then I got him to sign a copy of the b/w Teahouse pic I had of him. His caption on the photo was hilarious!! <g> He was so very gracious and kind! We didn't want to overstay our welcome, so we wandered off.

Sue and I went and saw Lou Ferrigno, who is still quite a hunk of man! Got him to sign a pic as the Hulk for my brother and one of him as Hercules for me. <eg> We all met up with Robert at Anime Pagoda and then headed back to David's table. It was great fun to put faces to names and get our pics taken with David. He was very patient with us. <g> We all chatted for a bit, then wandered until it was time to leave.

I went back to our hotel to pick up my DVD player and Voyage DVD's, then headed over to Carol's room at the Doubletree. Lin and Diane showed up as well and we had a BLAST!! There's nothing like watching Voyage with a bunch of female fans!!! Though I was quite outnumbered by Lee's Ladies, they were very patient when I needed to stop and 'appreciate' a certain blond's attributes. <weg> The Phantom episodes were terrific as expected. The quality of Carol's DVDs from England was wonderful!! I also enjoyed "The Mechanical Man" not just because it had the gorgeous (and often shirtless) James Darren, but because Chip got to be the resident computer weenie and do some cool action stuff in A TIGHT WETSUIT! :::pause for hormonal moment even if it was the banana yellow wetsuit::: As Sue has said in her con report, we will *never* see "The Mermaid" the same way again. lol Robert Dowdell and Richard Basehart added soooooo very much to the episode with just their body language and expressions while poor David was entranced by the mermaid. Was quite late when Sue and I got back to our hotel, but we still stayed awake a bit and chatted about stories and Voyage. <g>

SATURDAY

Slept in, then chatted more about Voyage stories! <g> Met Lin at the Village Inn for breakfast, then headed to the Convention Center in Lin's vehicle. After some Traffic Cone Duty :::snickers::: we headed for David's table. Met Casey from the list, then chatted with David about the episodes we'd watched the night before. I couldn't resist having him sign the rock 'n roll blooper photo I'd found on eBay! He was quite surprised to see it and said that it must have been a rehearsal pic taken right after someone off screen had said something funny. <g>

We then split up as Sue wanted to get Kevin Sorbo's pic but I was going to wait until Sunday as I was staying the full three days. So Lin and I wandered a bit then headed out in search of the extremely elusive ATM-with-money! Though our hunt was ultimately successful, it was very tiring so Lin and I took over an empty bench and talked Voyage, stories and life. We finally wandered back to the Con and met back up with Sue. I saw her winged kitty and realized that my life would be incomplete without my own. <g> So we returned to the proper vendor and I got a black Bat Cat in honor of my beloved kitty who had long since crossed the Rainbow Bridge. Since Lin and Sue were going to have to head back to Real Life, we returned to David's table so they could say good-bye. They got KISSES! I didn't get any 'cause I wasn't leaving until the next day. :::pouts::: But he did promise me a proper good-bye Sunday. Yes, Lin and Sue did indeed float out of the convention hall. <vbg>

Lin, Sue and I had dinner at a wonderful Japanese restaurant on our way back to Carol's. I should have known the traffic on International Drive would be its typically evil self on Saturday night, making it rather late by the time we got to Carol's. :P Was neat to see Eleven Days to Zero. **Particular People's Note: we paused to see Crane's Academy ring with RED stone instead of the black onyx ring he'd wear for the rest of the series. Yes, it's NOT the same ring in the pilot. You can see it clearly as he comes down the spiral stairs for the first time. End Note*** We talked and talked and had yet another wonderful evening! It was hard to say good-eye to Lin, Carol and Diane. :(

SUNDAY

Got up at what felt like oh dark hundred to get Sue to her flight on time. :) Was again sad to have to say good-bye as we had such a wonderful time! Headed back to the Convention Center for the final day. Carol didn't attend as she wasn't feeling very well so I was on my own. This time I wandered the hall a bit, picking up a couple Nintendo themed goodies for my son and a mini killer rabbit plushie (from Monty Python & Holy Grail) for me.

Got in line for Kevin Sorbo. I was wearing my Morton collage t-shirt and Kevin recognized him and the series and said that he used to watch Voyage all the time and loved it! lol He said that David was wonderful. I complemented him on bringing warmth and compassion to his strong man role as Hercules and he was very appreciative, signing my pic with three little kisses. :::happy sigh::: He was very sweet and still quite yummy to look at. <g>

By this time my feet and legs were killing me and I'd missed Sean Astin. :( So I decided it was time to say good-bye. I headed back to David's table, though I was a bit more shy since I wasn't with others this time. :) I decided to get my hubby, also a Voyage fan, a treat and bought a Flying Sub model and had David sign it for him. David was very sweet about it and, while signing it, looked up at me through his lashes just like so many a fanfic author has written. <vbg> I got a last hug from Diane and a lovely hug and a kiss on each cheek from David. He was so sweet and kind and patient with us the whole weekend! A lovely, lovely gentleman!

Lin, Carol, Sue, Diane and John, it was terrific to meet you and to spend so much time together!! Robert and Casey, it was great to meet you, I just wish we'd had more time to visit. I had a wonderful, fabulous time and dearly hope that we can do something similar again!

Kim Q

• back to Pix •
In early August, 2007, a daring group of ladies headed off on a road trip to New Jersey to see David Hedison in "Love Letters" at Monmouth University and to meet up with fellow Voyage fans.
Wed. night, Aug. 1st, I left to meet up with my fellow Floridian, Lin (auntpete from SubPen). Thursday, Lin and I left for Tenn. to meet up with Sue (bookscape) and Pat (not on list). Friday we traveled 13 to 14 hours from Tenn. to New Jersey. May I say that the Penn Turnpike desperately needs paving?? We had a marvelous time talking Voyage and plot squid and Voyage and handsome men and Voyage while on the road. ;) Since Lin did most of the driving, she was the Skipper. I navigated (with many charts) and so was the XO. <vbg> Sue got to give orders and be the Admiral. hehehe

Got in to hotel only to see smoke billowing out of the back of it. After much chaos, a four hour hospital visit (very long story) and getting the runaround, we finally made it to our 'new' hotel at about 5 am. O.o We tried to get some decent amount of sleep (didn't work) so we got to Linda's much later than we'd hoped.

Was WONDERFUL to meet everyone face to face!! Linda's house was full of Voyage fans listening to some great Voyage music videos, munching food and chatting up a storm!! :) At about three pm, Linda had a surprise for us, but I'll get to it later. hehehe

Lin and I left for church and then met Sue and Pat over at Diane's hotel to change for the play. The whole mob met up again at the Shadow Lawn Stage and prepared to enjoy the performance! Stupid me had left our four tickets in the hotel, but Linda's daughter, Caitlin, who works in the box office, printed us out duplicates in seconds. Caitlin was also the one responsible for seating all of us Voyage fans together. You've got a good one there, Linda!! <g>

The theatre was large but we had marvelous seats in the second/third rows right in the middle. The stage was set very simply which suited the play perfectly. David and Nancy Dussault were absolutely wonderful!!! David looked extremely handsome in his suit and his native New England/Rhode Island accent was quite charming. Okay, okay so most of Lee's Ladies were dang close to swooning. hehehe The play itself was a terrific mix of laughter and pathos. David wasn't feeling too well on Saturday so we didn't get to see him after the play but we were all thrilled to see him perform! Got up early on Sunday to head back to Tenn. and to retrace our steps. I finally arrived back at home on Tuesday evening and promptly crashed. :P

Now, back to the big surprise Saturday at Linda's. <g> She had said to be sure to be at her place by three pm for a 'special surprise' and so there we all were, sitting in her living room and watching fun Voyage videos. Linda, who had planned this in advance, hauled out her cell phone, called Robert Dowdell and put her cell on speakerphone! She then passed around the phone so all of us got to talk to Robert!!
Talk. Phone. ROBERT!! O.o
I had been corresponding with him via email about the robertdowdell.com website and he'd always been very sweet and patient with my questions. But, as the phone was passed around, I was quite nervous as I was afraid that I'd sound like an idiot. lol As soon as I said my name, he knew who I was and thanked me for my work and dedication on his behalf. :::blushes:::
I told him how it was an honor and a privilege to work on the site and then thanked him profusely for his patience with all my questions. He said he was more than happy to answer anymore questions that I had for him. We chatted a wee bit about something I was researching for him and then I thanked him again and he thanked me and I passed the phone on. He was incredibly sweet and kind and his voice was rich and smooth and deep!

Overall, he was very touched that he was remembered at all, let alone with such affection, and expressed his gratitude to each and every person. Very charming and gracious! Thank you, Linda, for arranging this wonderful surprise!

While Friday night and early Saturday morning were absolutely horrid and we spent most of Saturday rather sleep-deprived, much of the weekend was wonderful. It was a blast traveling with fellow Voyage authors as we tossed plot squid around and ran scenes past each other. It's amazing how friends turned into sisters-of-the-heart as we spent so much time traveling together. :) It was a VERY special treat to finally meet the wonderful people behind some very familiar screenames. :::waves at all the people::: It was terrific to watch David (and Nancy) do a superb job of acting in the play. And it was overwhelmingly wonderful to get to talk to Robert via the phone.

~~ Kim Q
P. S. I only took a few pictures and they are up on Diane's lovely site linked above.